Clever SEO will improve your traffic, rankings, calls and enquiries!
Over the past 9 months we've been working closely with the team at 365 Concrete and were tasked to improve their traffic, conversions and call volume through their website – enter Fusion Graphics Advanced SEO service. This was a challenging task during a year where Covid has taken over and lockdowns are common, but the results speak for themselves.
Below you can see the results from Google Search Listings over the past 9 months. This excludes all other forms of traffic and demonstrates our success at improving our customer's search rankings.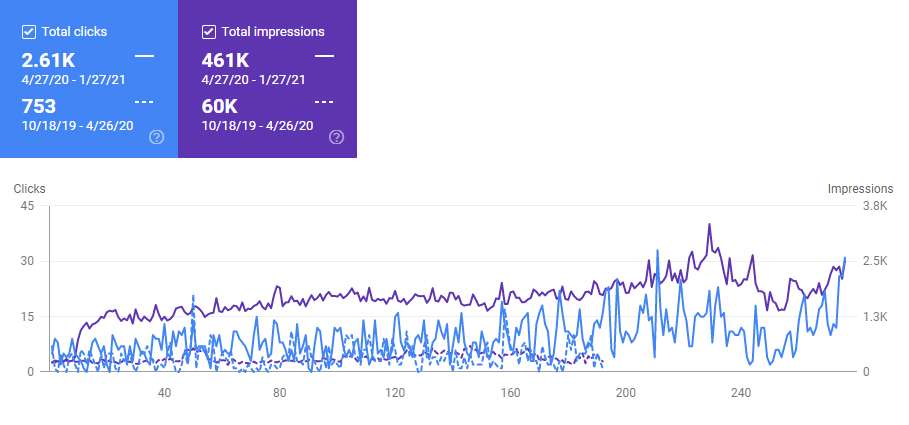 The Basics, current  period vs previous period
Clicks: 2,610 vs 753, an increase of 346%
Impressions: 461,000 vs 60,000, an increase of 768%
During this period there has been a healthy growth in both Total Clicks – 753 > 2.6k, and Total Impressions – 60k > 461k with online enquiries and phone calls increasing by approximately 200%. We've achieved this by optimising the site for both content and speed, as well as regular posts, blog writing and regular improvements to the overall content of the website.
It's worth noting that this was also achieved without the aid of Google Advertising. Fusion Graphics has now been implemented and we look forward to seeing continual growth and an increase in website traffic, conversions and calls.
Fusion Graphics offer a full SEO service that can be custom tailored to suit your needs. If you'd like find out more about our SEO packages, click here or contact us for more details.
#fusionwebphuket #phuket #SEO #traffic #blogs #rankings #service #advanced #googlelistings #blogs #webdesign #webdesigner #websitedesigner#thailand